Background
The World Within was the fourth in the five-part Rally Pad FUSION series of fundraising events hosted by Rally.org, a San Francisco based social incubator for nonprofits such as KivaZip, One Percent Foundation, and Creative Activist Network. Initially, Rally.org had asked me to oversee a new initiative they were experimenting, with the goal of raising funds for some of the different nonprofits that used their spaces. I was given their full support, but as a private contractor, the strategy around implementation lay on my shoulders. I decided to use these events to engage the community on several different levels, transforming the purpose of the event series entirely (see goals below).
I was asked to manage the first event, and when we counted 500+ attendees and over $2,000 raised, we transformed it into a series. By the final event, I had managed to engage 5+ nonprofits, 20+ local fashion designers, 40+ local models, 30+ local artists, and 3000+ attendees, leading to $5,000 in raised funds.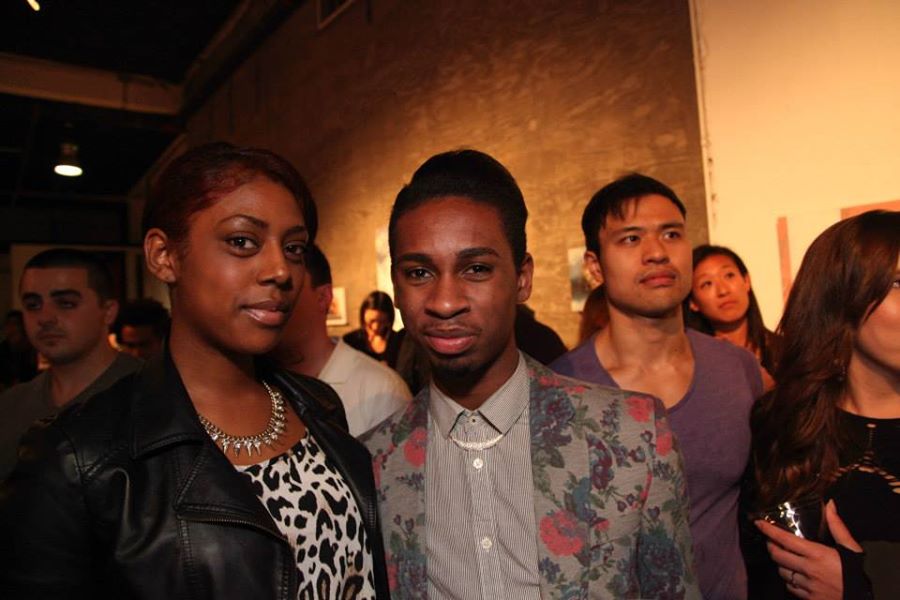 Goals
+ Raise funds for a different nonprofit for each event and awareness around their purpose
+ Gain exposure for Rally Pad FUSION for the purpose of engaging with new clients and nonprofits
+ Engage the community by featuring local artists, fashion designers, musicians, and models
+ Gain buy-in from Rally.org executive suite to transform into ongoing event series
Challenges
+ Budget: I had virtually zero budget to produce any of the five events
+ Team: The production, marketing, and creative teams were made up entirely of volunteers
+ Space: We hosted the show at 111 Minna, an art gallery not equipped to hosting fashion shows
+ Attendees: Rally Pad had a very small following, so we built the attendee list from scratch
My Role
Private Contractor, Event Strategist, Project Manager, Experience Designer, Master of Ceremonies, Relationship Management, Experiential Marketer, Team Manager.
I developed the concept for the event series, managed the team of 30+ volunteers (artists, designers, musicians, marketers), and crafted a detailed outreach plan for engaging with our community, including the appropriate messaging pre- and post- event. I also oversaw the nonprofit relationship and ensured that the raised funds would be delivered to the organizations according to procedures.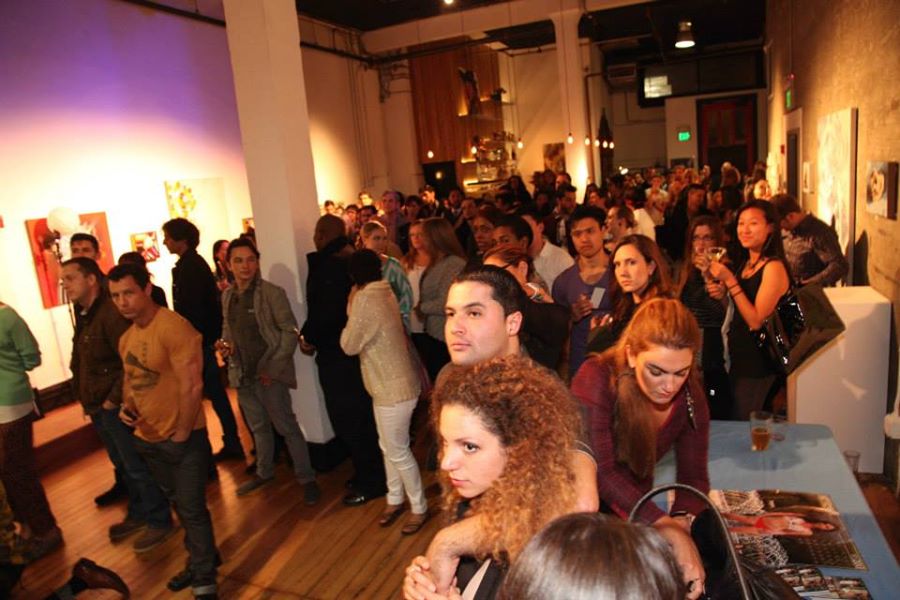 The Process
The series ran for nearly two years, with roughly one event every quarter. Since I approached each event slightly differently, applying learnings from prior engagements and developing my volunteer teams throughout, I will narrow my focus on the fourth event, The World Within. This was also the first time we had run the show outside of the Rally Pad location, which brought its own constraints and learnings.
After the success of the first event, the Executive Team was convinced of my inventive approach to a simple fundraising event. I had decided that, to help connect our audience with these relatively unknown nonprofits, I would feature a plethora of local artists that would then be incentivized to invite their communities. For the first Rally FUSION event, that meant 3 fashion designers, 10 models, 3 photographers, 3 make-up artists, and 1 DJ - resulting in 500+ attendees and $2,000 in funds raised.
I decided early on that we needed a very clear theme to set each event apart. Since we were fundraising for Concern America, a medical non-profit organization, I decided to feature only anatomical artists, as well as a live anatomical body painting session with our first male (!) models. My core team consisted of one marketing strategist, a lead artist, a nonprofit representative and a Rally Pad representative. We met on a weekly basis for the two months leading up to the event.
With weekly check-ins and several robust spreadsheets, I was able to manage the project with only minor bumps. We had to do a lot with very little, so my main goal was to spread awareness and excitement through personal, local connections. The theme allowed us to keep our messaging targeted throughout the planning and execution phase. I first locked down the 111 Minna gallery space, only a block away from Rally Pad, and arranged for the front room to feature paintings, body painting and DJ booth, and the back room to feature live music and the fashion show. I decided to narrow down the number of painters to be featured, instead boosting the number of musicians and designers, ending up with 3 DJs, 2 painters, 4 designers, and 15 female models. For the first time in the event series, we featured 2 body painters, 3 live musicians, 2 male models, a local jeweler, and free wine from a local winery. Each volunteer was brought on through word of mouth, personal introductions and multiple touchpoints and conversations that transformed them not just into participants, but evangelists for the event and our mission. You can imagine how detailed and persistent I had to be tracking each relationship!
One week leading up to the event, I invited each volunteer to an evening of drinks and discussion at the gallery space. At least 30 people attended to engage with this new community and to meet in person after many intimate conversations. I ran through messaging and the choreography of the event -- having walked in many runway shows in my day and performed live music throughout my life, visualizing and communicating the step-by-step comes naturally to me. This run-through successfully demonstrated this to the group, I allowed time to address questions and concerns while the team became acquainted with one another on a more personal level.
On the night of the event itself, setting up was hectic! We had less than two hours to hang everything, set up the tables, prepare the make-up room, and set up a divider for the stage. After doors opened, we had nearly 800 attendees show up. They had heard of the event through word of mouth, newsletters, messaging through the Rally Pad and artists' pages, and postings to local San Francisco event pages. With the entry fee alone, we raised $5,000+ for Concern America, and attendees spent $2,000+ on fashion, painting, and jewelry auction. The DJs played through the night as folks mingled and the body painters produced their live art installation. Halfway through the event, I acted as Master of Ceremonies, thanking attendees, informing them of the cause, and introducing each designer for the fashion show. We then had a live solo trumpet/improv performer, after which the DJs started up the party again.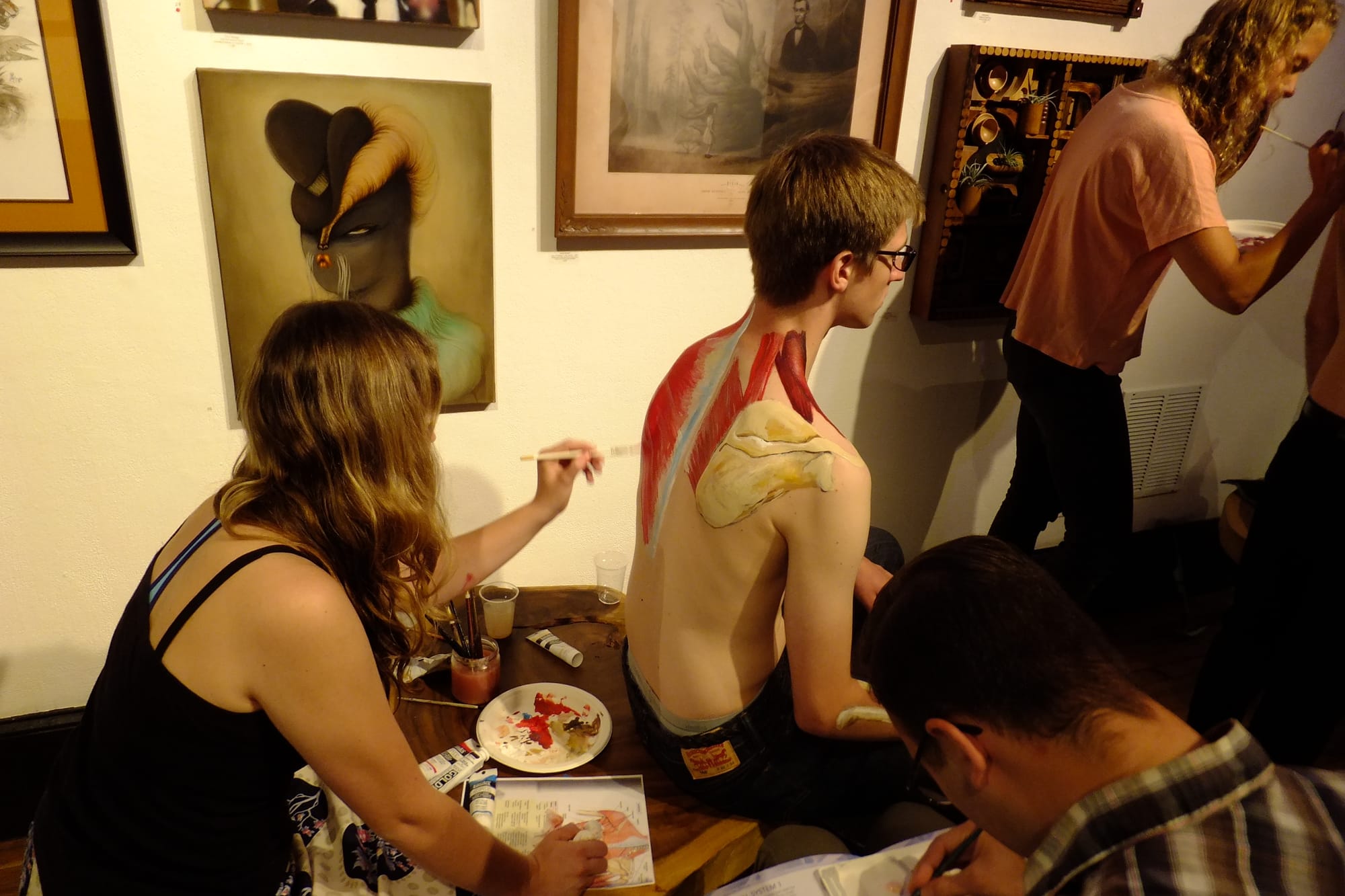 Results & Reflection
This was, perhaps, the most fulfilling event I had thrown. It really came down to each participant, and the dedication that they brought to the table. Many folks were just excited to share their art with the world, and doing so for a good cause that supported the local community was a huge plus. I eventually passed the torch along to someone else after I started working at Cooper full-time as their Culture Designer. The biggest success, to me, was creating something that was able to outlive my relationship with Rally Pad. I still value the friendships I've built through this experience to this day.