Background
Several months after Designit's acquisition of Cooper, we had gotten over the initial culture shock of shifting from a 50-person company to a 500-person, and were now faced with a new challenge: to define the vision, the North Star, "Polaris", for our North America region. Project Polaris was an idea born in the Designit New York office. The team designed several multi-faceted workshops, both in San Francisco and New York, with the goal of understanding and framing our aspirational inter-office goals grassroots style, co-creating a collective. With this, Project Polaris was born.
The team asked me to lead the charge in the San Francisco office. This was a fantastic opportunity to become more concrete in defining our local San Francisco culture and connecting it to the regional North America purpose and vision.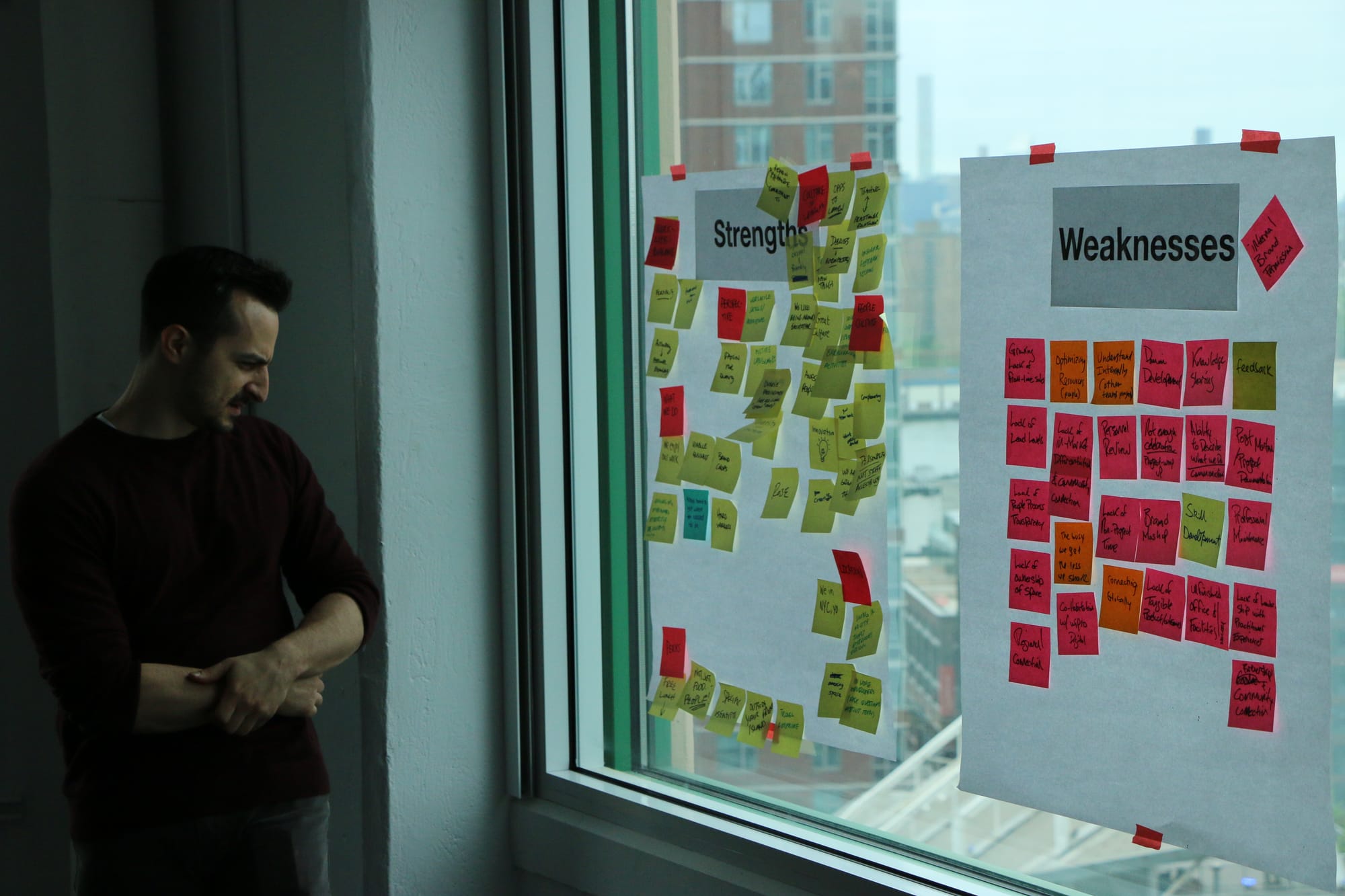 Project Goals
+ Connect individual purpose to the global mission through co-creating a collective vision
+ Build the foundation for future growth by analyzing current state and aligning over future state
+ Design a plan that informs business decisions and boosts productivity and overall morale
+ Create actionable items that are both impactful and feasible
Challenges
+ Collaborating between New York and San Francisco, two distinct cultures and styles
+ Working on an internal project while simultaneously fulfilling my full-time responsibilities
+ Conveying the importance of the initiative to leadership and the general office
My Role
Facilitator, Researcher, Project Manager, Organizational Change Agent, Culture Designer.
I led the workshops in San Francisco, synthesized findings, conducted individual interviews with each team member, developed, disseminated and analyzed surveys, met regularly with leadership, presented findings to North America region.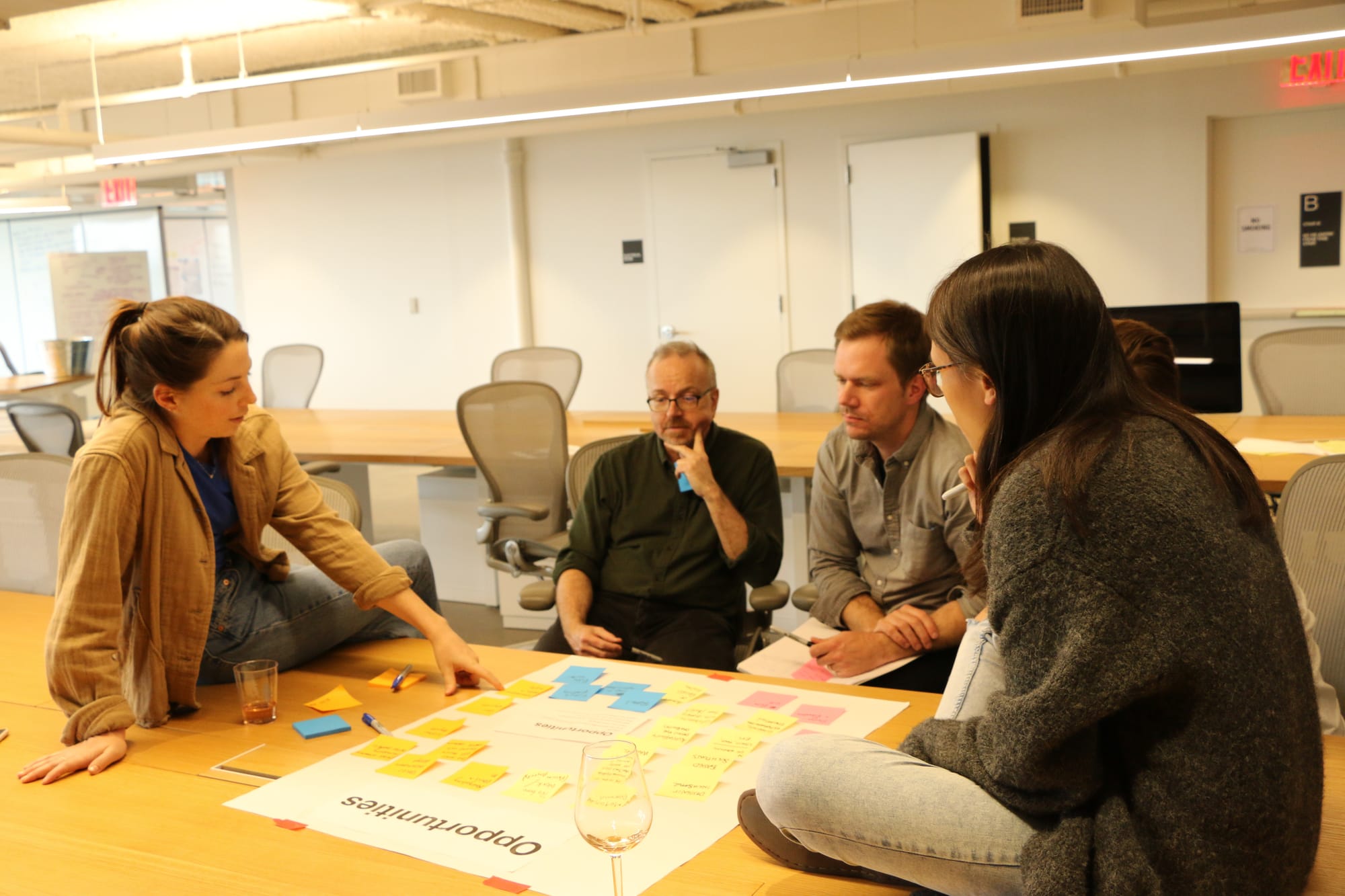 The Process
This was a process! First, although Project Polaris was born out of the goal to define a regional vision and unite both SF and NY, all important players were located in NY. Regional leadership, HR, the Design Team were all separated from our team in SF. I did not know the project existed until my help was requested.
The first point at which I was introduced to the project was when the initial Exploration Workshop had already been scheduled. I gave my feedback to the NY group, and helped the team understand that certain questions would need to be asked of the SF office to truly understand our current state. I recommended that we conduct a SWOT Analysis of our organization as a group, as well as a round of Keep, Stop, Start. This would help us understand our strengths and weaknesses as an organization, and dive more deeply into what worked and what didn't in regards to Culture, Projects, People, Domains, and Space.
From there, I shared my learnings to a bi-coastal Dropbox Paper document. We segmented the findings into different themes that echoed across offices. We then approached leadership and requested that they announce the initiative, so that it wasn't seen as something done to the office, but with the office. This was important work, and needed to be done with top-down and bottom-up involvement.
The findings were presented to the region as Rules of Thumb, directly named after the global Designit Rules of Thumb. That is when we came to an unexpected realization: the SF office was having difficulty connecting to our high-level aspirational goals. My colleague and I conducted individual interviews with each colleague in SF, to pull out feelings around the high-level aspirations. I learned that the general sentiment was in agreeance with what we'd designed, but that the action items did not connect to the bigger picture.
We ran a second workshop, titled Action Items: What Should We Focus on Next? Around each domain, we generated action items for the next 6 months. I then printed these out on posters and hung them around the office space. My colleagues would edit and add to our action items.
From there, I organized them into: Leadership-Driven, Group-Driven, and Individual-Driven. It was made clear that leadership would be responsible for organizational action items, and my colleagues would be responsible for the communal (office-wide) and individual (personal) action items. Then, stealing a fantastic idea from the NY team, I constructed and printed a survey: Your Voice Matters. I included all 86 action items in one packet, and gave each team member 3 days to ponder and vote on their top priorities. Once each ballot had been handed in, I synthesized my findings, and pulled out 6 main action items for the office. This became our new office Priorities document.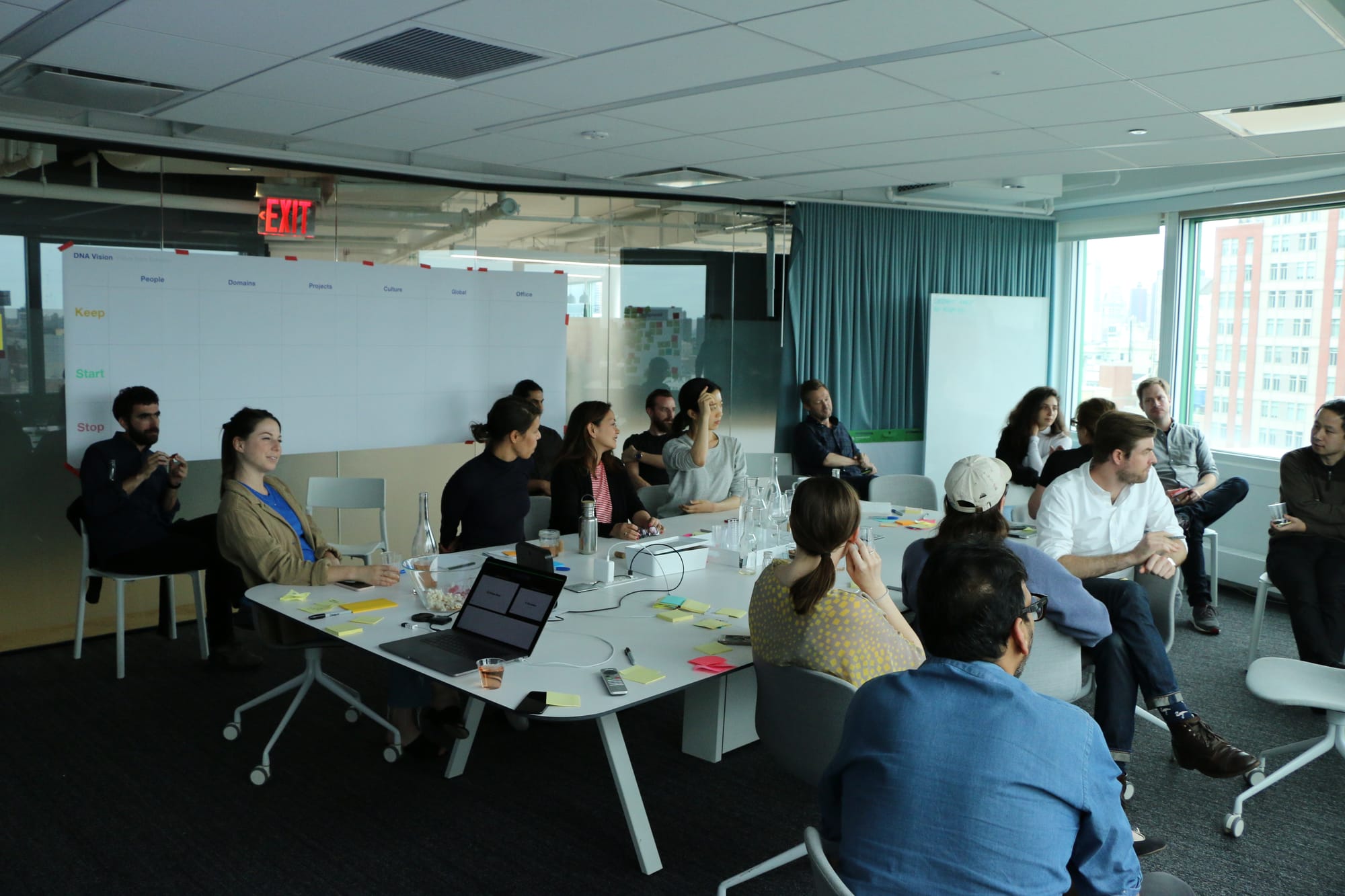 Follow Up
To make sure the action items are solidified and accepted by my colleagues, I have organized regular check-ins with Leadership and Team Managers to ensure that upper and middle management are following through with their promises. I've organized weekly Monday morning check-ins and designed a kanban board that allows for my colleagues to own initiatives and measure progress as an office. I regularly check in with the NY team, who have developed Rules of Thumb of their own.
Results & Reflection
My biggest takeaways? Don't force a vision on a group that is transforming, don't play catch-up, don't play the imitation game. Instead, focus on local first and regional second. Only then will the aspirational vision truly be connected to the day-to-day realities of the office. As it turned out, many other offices had been designing their own Playbooks, Guiding Actions, and Rules of Thumb. We were part of a movement that was bigger and more important than ourselves and our offices.