Background
I was asked to present at Springboard Rise, a data and design summit celebrating students who had graduated from Springboard summer online programs in Data Science, Programming, and Design. Most students had degrees in unrelated backgrounds, and used this 3-month long training as an opportunity to work with an expert mentor in the field on real-life projects that would boost their portfolio and break them into the design and programming fields. Each of the 250 students, alumni, and mentors were to participate in a full day of networking and learning at the Linkedin San Francisco Headquarters. My task was to lead the only workshop centered around the design process.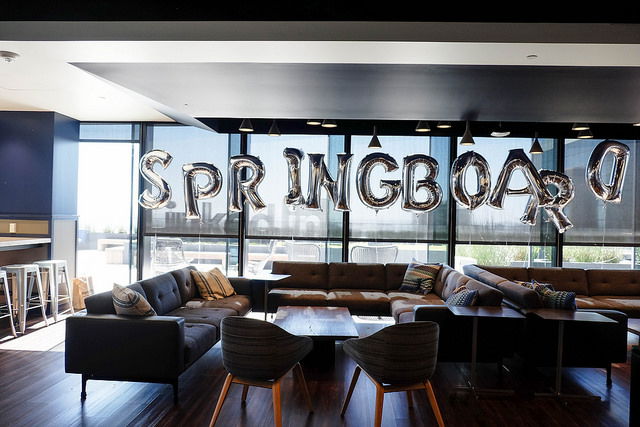 Workshop Goals
+ Lead the sole design workshop at a conference of 250 curious and accomplished programmers and designers
+ Connect with students who would be interested in our trainings and services
+ Engage with mentors and other speakers to ignite potential partnerships
+ Promote the Cooper Professional Education and Designit brands and methodologies
Challenges
+ Many students had learned the design process, so we needed something fresh and intriguing
+ The continued struggle of representing clearly both Cooper and Designit brands
+ Presenting with a nervous colleague who had never before lead a workshop in design
My Role
Presenter, Facilitator, Mentor, Workshop Designer, Brand Ambassador.
I partnered with a colleague who was new to facilitation and helped guide him through the process. Together we designed an appropriate workshop, mastered the material, and represented our brand on the day of the event.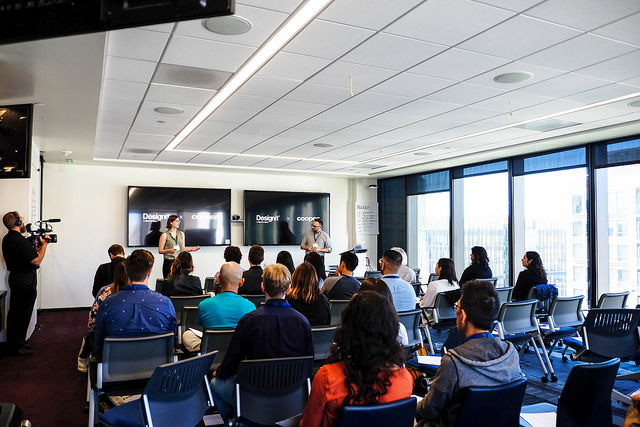 My Process
When I received the request, I first responded and set up a screening call to learn more about the event, the attendees, their backgrounds, knowledge of the subject matter, expectations, and goals. It was important for me to understand our attendees in order to decide whether this would be an appropriate opportunity. Given the mission of Springboard, the fact that this was their first-ever summit, and the challenge of working with quick, intelligent, and hard-working attendees, I decide that this would be a good opportunity for us.
Secondary to the goal of supporting the attendees was the possibility of generating projects and increasing engagement with our offerings. Speakers from Uber, Facebook, Google, Pandora, LinkedIn, Quora, Dropbox and more were all in attendance. We would have the opportunity to learn from and connect with other thought leaders, some of whom were current and previous clients. As for the students, I decided that we should raffle off one of our Professional Education courses in order to have them engage with our products.
Given the fact that many of the students understood design and would be sitting in a stale room listening to speakers all day, I decided that instead of giving a long, drawn-out overview of the process, we should zoom in on a very important part: Ideation. We offer a full-day training in Leading Creative Ideation, which I pared down to a 45-minute Ideation Crash Course. My goal was to teach the students how to facilitate ideation workshops with their own teams.
One of my philosophies of education is that learning should be fun and experiential. I therefore approached this workshop by focusing on three ideation games: The Bad Idea Contest, Sketch-a-robics, and Crazy 8's were three great ways to let our attendees experience the ideation process and empower them to use these tactics with their teams. Throughout the exercises, we would allow for plenty of reflection time, always asking students to show their work and to answer the question: Why do you think we just did that activity? What did you learn from that? This became an engaging and iterative process and was a huge success.
In The Bad Idea Contest we first anchored the students in a problem statement: the pre-flight experience at San Francisco International Airport. But, instead of improving the experience, we asked them to come up with the worst ideas possible. For 5 minutes, the students wrote down every bad idea they had: all the signs are in braille, there's no baggage claim, etc. This was designed to get them out of their shell, warm them up, and show that there are no bad ideas, just bad containers for ideas.
Sketch-a-robics is all about sketching as a form of communication. We turned up the music and yelled out shapes at our attendees, and they were to draw as many as possible on their papers. "Circles! Now squares! Triangles! Big ones, small ones!" As a 'bonus round', we asked them to draw a robot using all of the shapes they had drawn. You don't need to be an artist to communicate an idea.
Finally, for Crazy 8's we brought them back to the Problem Statement and introduced them to our Persona: Sandy, an energy consultant who only flies to get where she's going. In this activity, we invited our students to really get into her shoes, really hone in on her experience at the airport. This time, we had them come up with at least eight ideas to improve her experience. We then had folks partner up, share their best idea, and create an idea that is a combination of their best ideas. This shows you how to anchor yourself in the context of your user and use your lateral (vs. linear) thinking muscles.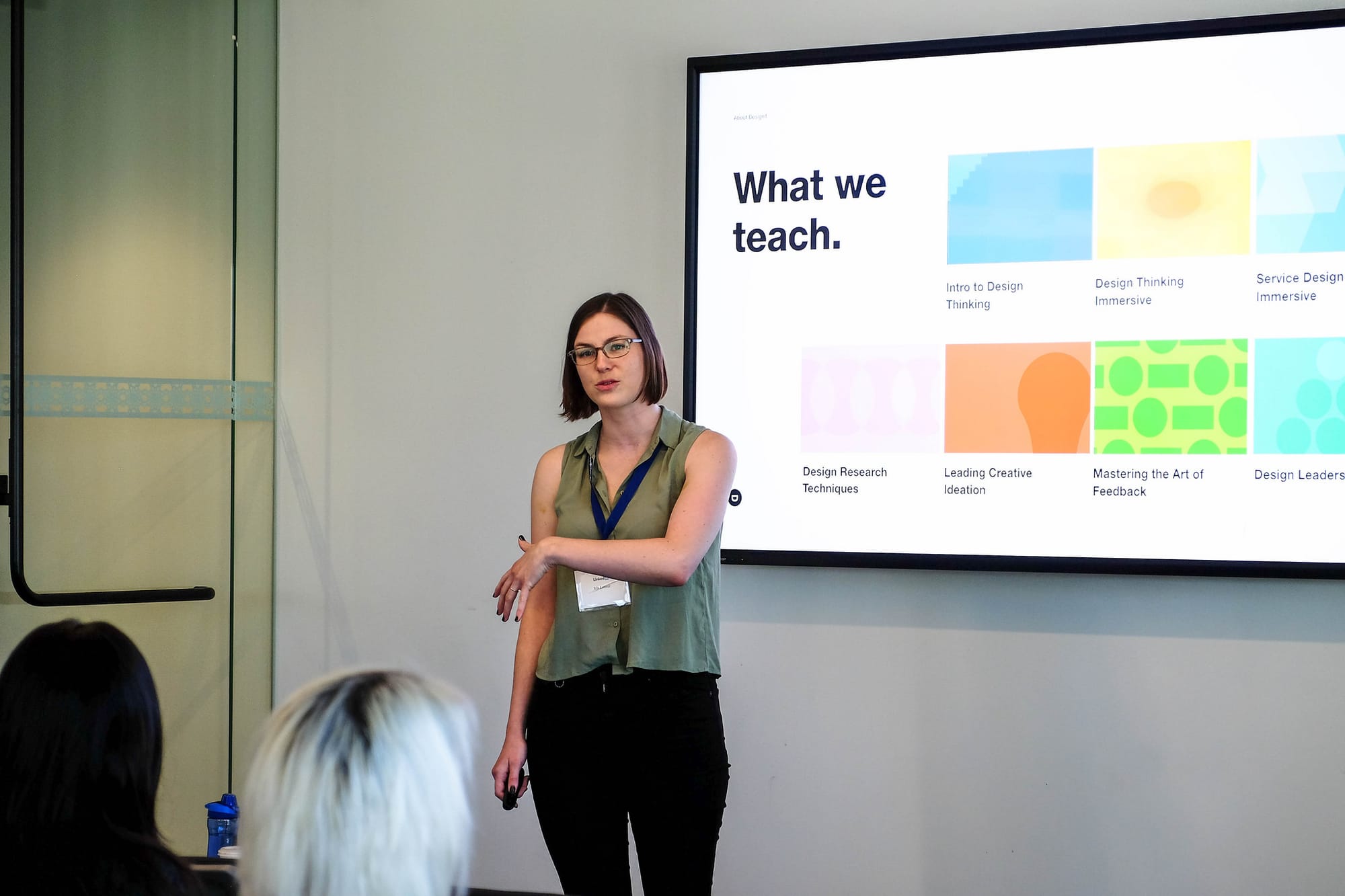 Results & Reflection
More than a handful of attendees lined up to speak with us after the workshop. Many of them said it was their favorite experience of the day. I received numerous LinkedIn invitations afterward, with kind, sincere notes of thanks. The organizers were thrilled with the responses and sent out Facebook Live recordings, photos, and posts about the Ideation Crash Course. We had raffled off a seat to Leading Creative Ideation, but nearly a dozen other students signed up as well and paid full price, adding up to nearly $12,000 in training revenue.
Not only was it fruitful, but it was a fulfilling experience to give back to our community and support the continued education of our fellow San Franciscans. Breaking into programming and design is daunting, and a confidence boost is all these students needed to really help them feel excited for their new futures. What's more, the other mentors and speakers were fascinating individuals, some of whom have remained good friends. Although the monetary return was minimal, the opportunity to engage with the community and spend some face time with other organizations was a great experience.